Why was Fawad Khan banned in India
Cashmere crisis: Modi sticks to his line
India's Prime Minister Narendra Modi made his first televised address to the nation in the face of new tensions over the Jammu and Kashmir region. He said that following the decision of his government to terminate the internationally recognized special status for the region, "a new era" is to be expected here.
Modi said the previous special status had hampered the economic development of the Kashmir Valley and promoted terrorism and corruption. In addition, Pakistan has used the status to generate "anti-nationalist feelings" among the population. "Now everyone in our nation has the same rights and responsibilities," said Modi.
People in India are watching Modi's TV address
Its hard course is popular among the Indian population. Pakistan, however, criticizes the Indian approach as "illegal". The somewhat taken by surprise government in Islamabad warned loudly that Indian behavior could lead to renewed violence in the region and perhaps also to a clash between the two nuclear powers - with "unimaginable consequences," as Prime Minister Imran Khan put it.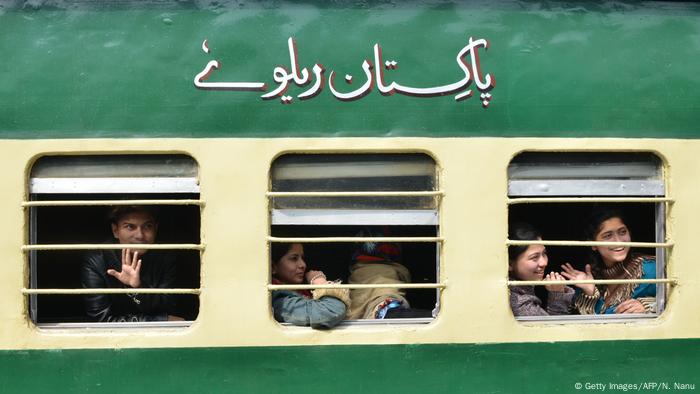 Is being discontinued: the iconic Samjhauta Express
In the dispute, Pakistan wants to cut the important rail link with its neighboring country. "We have decided to discontinue the Samjhauta Express," said Pakistani Rail Minister Sheikh Rasheed at a press conference in Islamabad. As long as he was rail minister, this connection between the Pakistani city of Lahore and the Indian capital New Delhi could not be operated. Pakistan has also already announced that it will expel the Indian ambassador from Islamabad and not even send its newly appointed ambassador to New Delhi. India and Pakistan have been fighting for complete control of the Himalayan region for decades. Since gaining independence from Great Britain in 1947, the two states have waged war against each other three times. A few months ago, India had launched attacks on Pakistani territory for the first time since the 1971 war.
"Believe me ... "
The Minister of Science and Technology of the Pakistani government, Fawad Chaudhry, also made it clear that the situation is extremely serious. In an interview with Deutsche Welle, Chaudry said: "I don't want to get involved in the war. But believe me: if there is war between India and Pakistan, it will not be a conventional war that is limited to one state. The foothills such a war will be felt in capitals like Berlin and Washington, from Riyadh to Tehran. "
Concern worldwide
The United Nations is naturally "deeply concerned" about the developments in the Indian part of Kashmir. The UN High Commissioner for Human Rights said the human rights situation in the Himalayan region was deteriorating. According to agency reports, more than 500 people, including university professors and business people, have now been imprisoned in the region.
ml / sti (dpa, AFP, epd, AP)