"Trump is a pathological liar"
The most famous presidential candidates of the US Democrats have sharply criticized US President Donald Trump in view of the latest testimony in the Ukraine affair. At their fifth televised debate in Atlanta, Georgia, all five participants were outraged by the latest revelations in the impeachment investigation.
Senator Bernie Sanders said Trump was not just a "pathological liar" but "arguably the most corrupt president" in US modern history. Clear words also from Senator Kamala Harris: There is currently a "criminal" living in the White House, according to Harris.
US ambassador brings Trump into distress
The Democrats are accusing Trump of abuse of office for calling for Ukraine to investigate former US Vice President Joe Biden, who is also running for the Democratic presidency. Trump is said to have withheld planned military aid for Ukraine and used it as leverage.
Biden's son Hunter was employed by the gas company Burisma in the Ukraine until April this year. Trump accuses Biden of having tried as Vice President to protect his son from the Ukrainian judiciary.
On Wednesday, a statement by the US ambassador to the EU, Gordon Sondland, put the US president in further distress. Sondland said in the House Intelligence Committee that many high-ranking government officials had been privy to the pressure campaign against Kiev, including Secretary of State Mike Pompeo and Trump's Chief of Staff Mick Mulvaney. He himself received his instructions on how to deal with Ukraine from Trump's personal lawyer Rudy Giuliani.
Dispute over "Medicare"
As unanimous as all five candidates are in their criticism of the US president, their opinions are as different in the area of ​​public health, for example. Poll favorite Biden criticized Senator Elizabeth Warren and Senator Bernie Sanders' plans to expand public health insurance to the entire population. "The fact is, right now, the vast majority of Democrats don't support Medicare for All."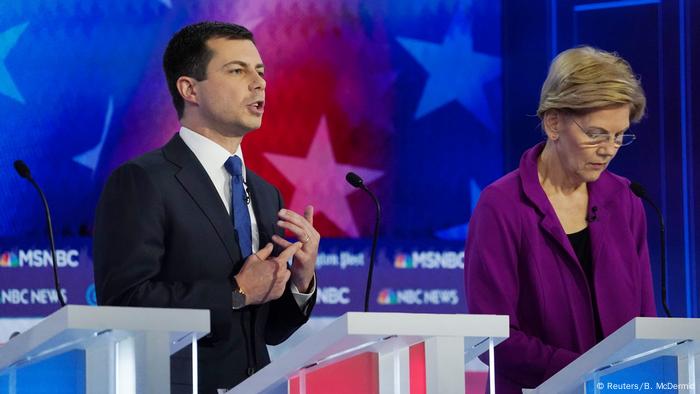 Opposing views on the health system: Pete Buttigieg and Elizabeth Warren
The mayor Pete Buttigieg, who is aspiring in polls, and a representative of the party center like Biden, also criticized the plans of the left-wing politicians Warren and Sanders. Their plans are "not the right approach". People should not be forced into statutory health insurance.
Sanders argued that the current health system was not only "cruel", it was simply not working. Warren criticized the health system as benefiting the rich - everyone else was getting worse and worse.
Primaries from February
Although numerous party colleagues have already dropped out, almost 20 Democrats are still running for their party's presidential candidacy. Survey favorites right now are clearly the political veterans Biden, Warren and Sanders.
The primaries, in which the Democrats will finalize their candidate for the presidential election in November 2020, will begin in the US state of Iowa in early February. It is expected that the billionaire and former New York City Mayor Michael Bloomberg could still get into the race.
cw / kle (afp, dpa)