Budapest was damaged in World War I.
Budapest: New life in old ruins
The cell phone rings again, Zoltán Jancsó smiles apologetically and walks up the narrow stairs that lead from his gallery to the daylight. His assistant excuses him: "Zoltan is very busy. And chaotic". The JAG-Galerie also describes that very well: Persian carpets laid one on top of the other, a table in the middle of the room where two painters are talking, further back a woman is painting shades of pink on a canvas between half-finished pictures and painting utensils.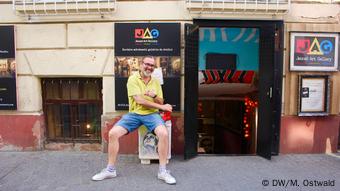 Artist Zoltán Jancsó in front of his small gallery on Kazinczy Street
Art meeting place on Kazinczy Street
The boundaries between exhibition space, studio and living room are blurring. On the walls there are pictures that do not have any arrangement: abstracts next to landscape painting, in between a woman in a charming pose or a portrait of Marilyn Monroe. Everyone can paint and exhibit in the JAG gallery. In 2015 it opened almost by itself: Zoltan Jancsó rented a former blacksmith's workshop as a studio, and tourists and residents quickly came by. Many looked, some wanted to take part.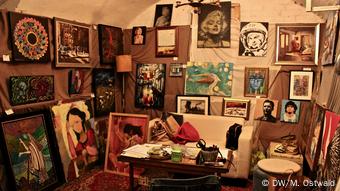 Everyone can exhibit in the JAG gallery
"I felt it," Jancsó remembers, "this place shouldn't just be a studio, but a gallery." His feeling proves that he is right, the JAG-Galerie is quickly becoming a popular art meeting place. It is right on the small Kazinczy Street, one of the liveliest in the Jewish quarter.
The Jewish Quarter through the ages
In the last fifteen years, the district has risen to become a trendy district: trendy cafés and second-hand shops meet street art and dilapidated house facades. It is the charm of the run-down that creates something new - shabby chic, if you will.
The neighborhood has gone through dark times. Between the 18th and 19th centuries, the district became Budapest's Jewish center. In 1859 the Great Synagogue was inaugurated on Dohany Street. A year later, Zionism founder Theodor Herzl was born in the house next door. During the Nazi occupation, the quarter became a ghetto for over 70,000 Jews in 1944.
Many of the old buildings stand empty after the end of the war. They deteriorate more and more until new life is breathed into the ruins in the early 2000s.
The hour of the ruin bars
"We gathered old furniture and organized small movie nights in the courtyard," says Orsolya Liptay from the ruin bar Szimpla Kert. In 2004 the first and to this day largest ruin bar opened. Meanwhile, more than one and a half million visitors come annually. A visit to the Szimpla Kert (simple garden) is reminiscent of a journey of discovery à la Alice in Wonderland. Spread over two floors there are bars with craft beer, cocktails and hamburgers, a shisha bar, a stage for concerts, jam sessions and open mic evenings.
No stylish trendy bar: the interior at Szimpla Kert is a colorful mess
The inclined furnishings are striking: a bathtub or an old Trabi become a seat, painted Ikea rubbish bins become lampshades, in one room old televisions and radios hang from the ceiling together with fairy lights.
The audience is also mixed: young students, tourists who immortalize themselves with Edding on the walls, but also seniors who come here for a pálinka (a Hungarian schnapps). "I think people like that everything is not as uniform here as in other bars," says Orsolya Liptay. "Everything is allowed with us that doesn't bother others."
The Szimpla Kert started a trend that changed the entire Jewish quarter. In the ruins of that time there are now large nightclubs (e.g. Fogas Ház), cozy bars (e.g. Köleves Kert), Mexican street food (e.g. Elláto) or even higher-priced restaurants (e.g. Mazel Tov).
Promote regional artists
The Szimpla Kert sees itself as a cultural meeting place. In addition to folklore dance courses, a weekly market and concerts, there are changing art exhibitions, often in collaboration with Zoltán Jancsó's JAG gallery. The photos that will be shown this summer are by Hungarian photographer and graphic designer Eszter Kazinczy. She captured monstrous concrete buildings in Prague: Brutalism is the name of the architectural style from the sixties, which is not necessarily considered beautiful.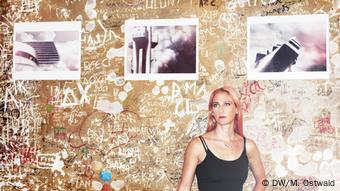 Photographer Eszter Kazinczy at Szimpla Kert
"I wanted to show these buildings in a different light," says Eszter Kazinczy. It is the first photo exhibition for the 30-year-old. She particularly likes the location: "Nowhere in Budapest is the cultural scene more lively than in the Jewish quarter." And then there is the very personal connection to the place: Kazinzcy Street, on which Szimpla Kert, the JAG Gallery and other hotspots in the district are located, was named after its ancestor Ferenc Kazinczy, an 18th century writer.
Tourism boom: a blessing and a curse
As a hip artist and trendy quarter, the Jewish quarter also attracts many party tourists. That brings money, but also problems. "The drug trade has increased," says Orsolya Liptay from Szimpla Kert, "and there are a lot of sprawling bachelorette parties. That's why we need security."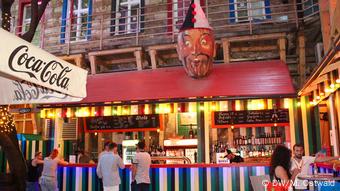 The ruin bar Fogas Ház is one of the hip nightclubs in the Jewish quarter
Artist Zoltán Jancsó knows about the problems in the neighborhood. Nonetheless: Without the rush of tourists, he might never have opened his JAG gallery. For him it is a good change that is taking place here: "We have become more international, that's a good thing." Hungarian Prime Minister Viktor Orbán, who is at war with the EU on the refugee issue, sees it completely differently: To prevent refugees from entering the country, he has sealed it off almost hermetically and had a barbed wire drawn on the border with Serbia. Nevertheless, the Jewish quarter remains colorful, open, open-minded. "We are not Orbans," says Zoltán Jancsó.