Sai Baba review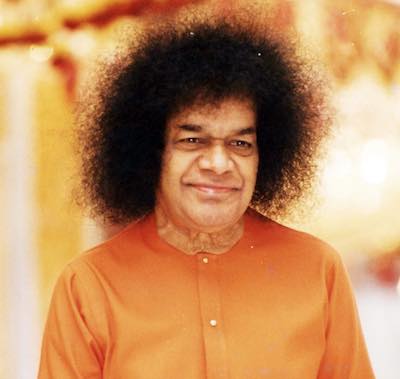 Sai Baba is an Indian guru who lived from 1926 to 2011. After a 3-day coma due to a scorpion sting, he claimed to be the rebirth of an Indian sage at the age of 14. In 1960 he declared himself an avatar. God would speak through him now. After he publicly performed so-called "miracles", his ashram in South India was visited by more and more followers. The "Darshan Square" in his ashram has regularly filled with up to 20,000 people in recent years.
Sai Baba, also called Sathya Sai Baba, is very controversial.
Find out something about yourself that knocks you out of your socks
Check out the book "Enlightened, But No Clue"
Criticism of Sathya Sai Baba
He does cheap magic tricks that people think are "miracles"
With the simplest magic box tricks he tried to bind people to himself. He impressed his followers by conjuring up rings from behind their ears, or suddenly materializing necklaces in his hand, or letting "holy ashes" trickle out of his hand.
Tricksters who have seen videos of his so-called "materializations" have recognized that he was pulling the necklaces out of a hiding place.
Others saw how a pressed ash pill fell to the floor while handing him a rose. As you can see in this video, he always took the ash pill out from under the pile of letters that he always collected at each of his audiences and held in his left hand. The trick went like this: With his right hand he stacked a newly received letter on the pile in his left hand, quickly reaching under the pile of letters, taking out the pill, which he then crumbled to ashes over the head of a follower. - What a miracle"
Investigations of the "materialized" watches and jewelry showed that none of the objects were made of real gold, and none of the diamonds were real. As early as 2000, the shop where Sai Baba bought the things that he "materialized" could be located. It is located in Hyderabad.
"When my papa wanted to, he could buy up the whole school. He even speaks to Bill Gates and the US President on the phone on a regular basis. But he's buying the schoolstillnot because he has no reason to", says the 10-year-old notorious liar, who otherwise receives no attention in the class.
Quote Sai Baba:
"My divine power knows no bounds. I have the power to transform the earth into heaven and heaven into earth. But I don't, because there is no reason for it."
This is what someone else calls a boozer speaks. If you can do that, dear Sai Baba, then do it, or else do not say it.
The enlightened Werner Ablass wrote a review for this book on Amazon shortly before his death
Book about the illusory knowledge of the enlightened
Sai Baba is discussed in detail therein.


Enlightened people have had this one experience, there they are real, but if you put their preached teachings on the scales of the substance, then you recognize belief and not knowledge.
Quote Werner Ablass in his 5 star review: "I read the book through practically in one go! ... Relentlessly true to himself, the author reveals the mainspring of the "human machine", whereby the so-called enlightened is by no means an exception ... "

Sai Baba sexually assaults young men
Former students have described his sexual assault. The Swede Conny Larsson and the American Tal Brooke have each written a book about him ("Behind the Mask of the Clown" and "Lord of the Air"), where they describe Sai Baba's sexual abuse behind the scenes. Jens Sethi, a former student of Sai Baba, reported him to the Munich police for sexual assault on his return to Germany. Sai Baba sometimes "materialized" miniature phalluses, which he then gave to young followers in order to then receive them in a "private audience".
Sai Baba always invited male pupils and students from the ashram's own schools to his premises for "interviews". There he asked them to give him oral and group sex for his satisfaction. Followers defended him that it was to "liberate the Kundalini force". However, this practice was not used in any older men or in a single woman. There were teenagers who then played with suicidal thoughts because they didn't want to be gay. There was even a seven-year-old boy who cried for two days after an "interview" with Sai Baba. Doctors then examined him and found that his anus had been penetrated.
Many who have been close to him for years refer to him as a pedophile.
Sai Baba contradicts himself - but believes to be infallible
In a book called "Conversations with Bhagavan Sri Sathya Sai Baba"P. 164 asked John Hislop about life on other planets in the universe and Sai Baba commented on it.
J. Hislop: "Science says there are many planets with similar life."
Sai Baba: "There is no other planet in the entire universe that has human life or any similar form of life."
In another book "My Baba and I"by John Hislop (p.225-6), we read exactly the opposite. When asked about extraterrestrial life, Sai Baba answers:
"…In other places in the universe, life feels its divinity and is one with divinity and is very happy and feels that everything is right."
As here, Sai Baba contradicts himself, as so often on important issues. Whether there is free will or not, whether there is a divine spark in every being or not, etc. Today he says so, tomorrow the opposite ...
Babble without real knowledge!
His predictions did not come true
Sai Baba predicted to Rita and Robert Bruce (here) that after his 80th birthday in 2006 there would be an immediate worldwide transformation of consciousness and world peace would return.
Yes, Sai Baba, we all experienced that first hand ...
Sai Baba predicted (here) that 20 years before his death (that would have been 1991) he will be recognized as the "King of the Whole World". Nine years before his death (that would have been 2002), all Muslims would even recognize him.
Yes, the Taliban will certainly confirm that when asked ...
Sai Baba predicted in 1976 that he would be 96 years old. (here) Sai Baba died at 84.
Sai Baba said to a Canadian (here) in 2000: "The next Pope will preach my message". That would have been Josef Ratzinger.
So again: Pope Ratzinger publicly preaches the messages of His Holiness Sri Sathya Sai Baba, the Indian gay guru.
That, too, has also come true for everyone to see ...
Sai Baba's rebirth and successor - according to his prediction
The fulfillment of one of his predictions is still pending. In 2019 (eight years after his death), he says, a fisherman will find a child in the village of Doddamalur (later renamed Gunaparthy because of him) on the banks of the Cauvery near Srinrangapatna (near Mysore) Baptize 'Prema Sai'. It will be Sai Baba's third rebirth.
Unfortunately, there are other traditions as well, one of which says that reincarnation will take place within a year of Baba's death - the location is also different. After Sathya Sai Baba died in 2011 at the age of 85 but predicted his own death at the age of 96 (2022), he left his followers in a state of confusion about the year and place of reincarnation. The discussed dates that are now possible are 2012, 2019, 2023 and 2030. But then there are also those who say Sai Baba spoke of "lunar years". This would suddenly result in a total of 8 different possible years for reincarnation ...
Like the four evangelists in the prophecy of the Messiah, the followers of Sai Baba will also take some child at some point and then also subsequently reinterpret and twist the story so that it corresponds to the prophecies. Whoever believes does not want to know the truth.
Here is the description of how this happened to Jesus. How Jesus suddenly became the Messiah
Sai Baba has views that fit into every AfD get-together - pride in the fatherland
His sayings go about order and cleanliness and about the duty to show absolute obedience to the respective authorities. Nothing brings worse karmic fruit than disobedience. It is also important to be proud of your own fatherland.
However, when Sai Baba says elsewhere: Give up all identification. Then the most virtual of all virtual identifications is the one with a structure like the "nation". This unpeaceful and destructive feeling of "pride" is something that should be completely gone with enlightenment (the state without ego and attachment).
What a primitive, stupid instruction!
Sai Baba founds a religion "The Essence of All Religions"
Sai Baba cannot have been enlightened because he still wants to be "someone". The reason: He founds a religion that he calls "Sai Religion". Like all religious founders from Mohamed, to Joseph Smith (Mormoms), Ron Hubbert (Scientology), Sai Baba must also be someone who tries to compensate for his disguised feelings of inferiority by founding a religion with himself as the messiah. Like all other prophets and religious founders, Sai Baba also says: "The essence of all religions is the Sai religion" (my own)
Like all religions, it is a hodgepodge of arbitrary, stupid rules of conduct. "You should not eat meat", "You should be selfless", "You should serve the next one", "You should not drink alcohol", "Women and men should sit separately", "You should be dressed in white", "You should." You should sing or pray with family members once a week, "" You should honor your country, "etc. This is as far from enlightened knowledge as the earth is from Saturn.
Sai Baba showed very earthly fears
Sai Baba always claimed that he was not only enlightened, but was even the embodiment of the divine on earth - an avatar!
There was a murder conspiracy one day in the ashram. Four of his followers had been banished from his immediate environment (it is believed that they had been abused by him) and they were seeking revenge. The four tried to break into his premises by force.
The emanation of God behaved like a mortal shivering with fear: Sai Baba bolted the door and fled hastily down a back staircase. There were six dead in the end.
If I could perform miracles like Sai Baba, I would have simply turned the attackers into a pillar of salt. But he probably just forgot that he could do something like that ... (it happens)
Sai Baba has his name written hundreds of times in books every day
The followers in his ashram had the following instruction; Write Sai Baba's name in a book over and over again.
Even Kim Jong Un, the North Korean dictator, is more humble.
Sai Baba can be kissed on the feet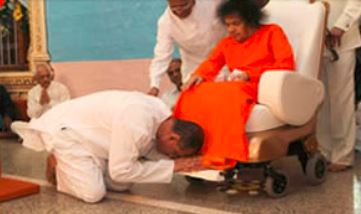 In the photo you can see an Indian governor who is kissing Sai Baba's feet.
Review: Sai Baba puts down doubters
Sai Baba called critics who doubted his miracles "insignificant worms" (here).
Real miracles can only be recognized by those who are "significant" themselves, or how?
That is logic-free.
The interesting thing about it, however, is the following: Anyone who calls others "insignificant worms" has an ego need to emphasize themselves as "significant" in contrast to this. "Look who I am, compared to these worms". Something as virtual as "meaning" can only be imagined if someone sees himself as significant through the eyes of other people. Only an "I", an ego, can do that.
He had a billion dollar empire of tens of millions of solvent followers.
The supporters and visitors became so numerous that the Indian government had an extra airport built a few kilometers from the Ashram, large enough for Boeing 737s to land. Everyone in the ashram was asked to donate after a while. Sai Baba drove away in different luxury cars, changing daily. BMW, Jaguars, Mercedes ... etc. When the sealed private rooms were opened after his death, they found 110 million rupees in cash, 307 kilos of silver, 98 kilos of gold, jewels and jewelry. Total value 8 million euros. The ashram's fortune was estimated at $ 9 billion at the time of Sai Baba's death.
Sai Baba had a hospital built to treat the poor free of charge. Doctors employed there stated that they would not allow themselves to be treated there because of the catastrophic hygiene. Conny Larsson says in his book "Behind the Mask of the Clown" that children were operated on in this hospital who then discovered that they were missing a kidney. The kidneys were sold on the black market.
Sai Baba can be called "Lord of the Universe"
Every year on his birthday he lets himself be dragged through the crowd on a golden throne in front of tens of thousands of followers. He can be described as the "Lord of the Universe".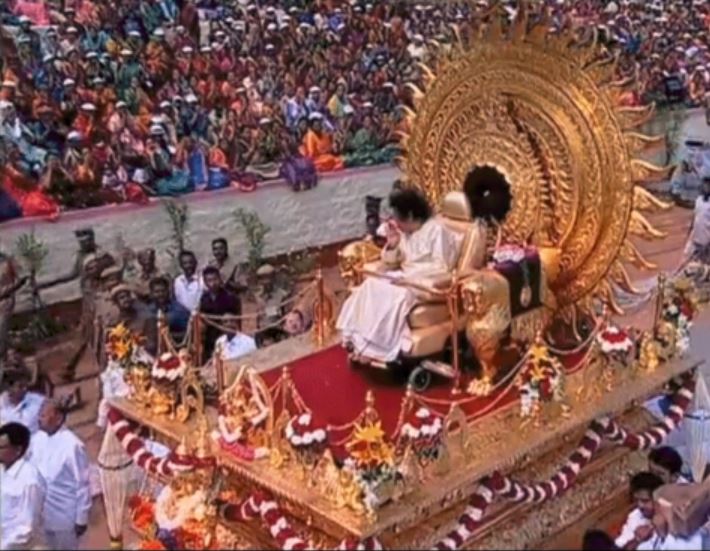 A "somebody" wants to be someone. Light years away from me.
Here you will find the report of a longtime insider on the atrocities of Sai Baba
If you want to criticize me here with an all-round blanket counter-argument without having to specifically address my points of criticism, then I have already done this work for you. I have compiled a collection of omitted arguments. Help yourself...

List of all past fog arguments
Last update: January 12th, 2020