How do investigative journalists find data online
The New Sector - We map and network media in Europe
Author: Thomas Schnedler / Date: 03.05.2021 / Comment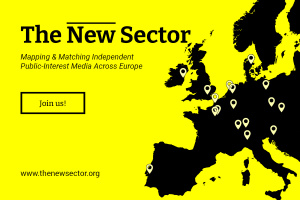 All over Europe, independent, common good-oriented media emerge that defy the media crisis. They are dedicated to investigative research, fact checking or cross-border research and thus enrich the media landscape. With our project "The New Sector" we are now making this lively journalistic start-up scene visible in its entirety. To do this, we map and analyze the new public interest media in Europe. Many of them are non-profit, looking for alternative business models, experimenting with new formats and research methods. They all want to close gaps that arise, for example, when daily newspapers downsize, merge or close editorial offices when important topics remain unprocessed.
"The New Sector" has three goals: Firstly, we create a mapping of the new sector that visualizes at a glance how media diversity in Europe benefits from the start-ups. Second, we are forging a network of new media organizations so that the makers can exchange ideas and initiate collaborations. And thirdly, we analyze the characteristics of the media geared to the common good, collect core data with the help of a survey and make it usable for further research. Continue reading
Journalism goes to school: Nationwide campaign starts on the day of freedom of the press on May 3rd
Author: Netzwerk Recherche / Date: April 27, 2021 / Comment
Media literacy is as important as math or biology. To bring this statement to life, journalists will speak at schools across Germany on International Press Freedom Day, May 3rd. There they discuss with the students what free and uncensored reporting means, provide information about the dangers of false reports and hate messages and answer questions about their work. The action was from the initiative Journalism goes to school brought to life. Netzwerk Recherche is one of the founders of the initiative.
Many well-known journalists such as Caren Miosga and Ingo Zamperoni (ARD Tagesthemen), Marietta Slomka and Claus Kleber (today journal), Giovanni di Lorenzo (Die Zeit and "3nach9"), Georg Mascolo (Research Association SZ, WDR, NDR), Steffen Klusmann (Der Spiegel), Alexandra Föderl-Schmid (Süddeutsche Zeitung) and other well-known names, especially among younger people, such as Constantin Schreiber (Tagesschau), Mirko Drotschmann ("MrWissen2go") and Mai Thi Nguyen- Kim (science journalist). Continue reading
Newsletter Netzwerk Recherche, No. 196 from April 22nd, 2021
Author: Albrecht Ude / Date: April 22, 2021 / Comment
Dear colleagues,
In our 20th anniversary year we went in search of ourselves - with a little research exercise: Who are we and who are our members? We have known a lot of them personally for years because they keep speaking up with their strong research and get involved with us in our conferences and projects. New ones are added every year. But we only know some by name from our membership directory.
Our board members Christina Elmer and David Hilzendegen have plundered our card index and gained a lot of knowledge. For example, that we have a maximum of Andreas 'with us. Just like Michaels and Christians. Quite banal, of course, but it creates a certain impression and it is not deceptive. We are actually more men than women. Almost sixty percent of our members are men and around forty percent are women. Trend: The proportion of women is growing, even if the men are likely to be in the majority for quite a while. Of course that's not bad. In fact, it's not a bad rate at all, considering how small the proportion of women in the research sections still is. In any case, we've changed quite a bit in the past few years. Because in the beginning 75 percent of our members were men and only 25 percent women.
We have now also plundered our photo archives and, thanks to our colleagues Manfred Redelfs, Günter Bartsch and Franziska Senkel, raised treasures. Seriousness and determination were written on all participants' faces when the netzwerk recherche was founded in Simmerath-Erkensruhr. In a fabulously unadorned atmosphere. Together they turned their gaze towards a visionary goal at the time. For the first time journalists formed a network in order to jointly assert their own interests: better framework conditions for research, clarification of the importance of research, an understanding of the craft and an appointment to convey it and to research together in a structured manner. From the beginning, self-criticism of one's own work and guild played a major role. The goals from then, they still apply today. Even if so much has changed - we too, the network research. Continue reading
NR and GIJN are looking for German Editor
Author: Günter Bartsch / Date: April 19, 2021 / Comment
Update: The application process is over.
Netzwerk Recherche and the Global Investigative Journalism Network would like to strengthen their cooperation and jointly advance cross-border research, investigative and data journalism. To this end, we create the position of the German editor who prepares these topics for the German-speaking audience, observes developments and reports on them for an international audience. Initially, it should be a freelance activity, amounting to approx. 20 hours per week. Good knowledge of social media, an accomplished use of the German language and very good knowledge of English are essential. A good understanding of investigative and data journalism is also expected. The goals and expectations are based on the positions of other existing regional editors of the GIJN and are detailed below.
Applications with a short cover letter and curriculum vitae (1–2 A4 pages each), with your own ideas for the organization of the job, please until 2.5.2021by email or using our encrypted form.
Continue reading
Netzwerk Recherche celebrates 1,000 members
Author: David Hilzendegen / Date: 04/14/2021 / Comment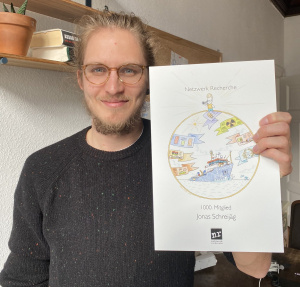 Jonas Schreijäg is the 1000th member of Netzwerk Recherche. Comic artist Naomi Fearn has immortalized him and his best stories in a certificate.
The research network is not only getting older, it is also getting bigger. In March 2021, just in time for our 20th anniversary, we broke the magic barrier of 1,000 members. Our 1000th member is Grimme Prize winner Jonas Schreijäg. Comic artist Naomi Fearn has immortalized him and his best stories in a certificate.
1,000 members - that's what we want to celebrate. And because we can't get to grips with each other at the moment, we're taking the whole thing a little more journalistic, namely with a data analysis: Who are we actually? How old is the average nr member and where do we come from? There are many answers here. The status of the data is mid-March 2021.
The (last) steep path to 1,000
Network research has grown in popularity in recent years. It took more than 13 years to get the first 500 members. But not even seven for the next 500.
Development of the number of members
That is not exponential growth. But we really had enough of that in the past few months ...
Continue reading
Newsletter Netzwerk Recherche, No. 195 from March 24th, 2021
Author: Albrecht Ude / Date: 24.03.2021 / Comment
Dear colleagues,
we all know the "media metropolises" - e.g. Berlin, Cologne, Munich, Leipzig or Hamburg. But hardly anyone knows Simmerath-Erkensruhr. But it was there, in the deep provinces, that 20 years ago journalists from all over the republic met and founded the "netzwerk recherche". Scoffers claim that finding this community - at that time the "Navi" was not yet a matter of course - is proof that all those who had made it were seriously interested in research.
Of course, even before "netzwerk recherche" was founded, there were colleagues who, through persistent inquiries, good craftsmanship and a lot of passion, revealed grievances and scandals that did justice to the "watchdog function" of the press through their work. And those, which cannot be emphasized often enough in times like these, were and are indispensable for a living democracy.
To promote this desire and passion for research even more, to cultivate the exchange, to enable networking - these were the motives of all those who met at the end of March 2001 in Simmerath-Erkensruhr. And it is exciting to read how the importance of research was discussed in the editorial offices back then. Continue reading
Journalism for adolescents and young adults - specialist day at Scoopcamp on September 15th
Author: Netzwerk Recherche / Date: 23.03.2021 / Comment
At the scoopcamp, the Hamburg innovation conference for media, there will be a specialist day on journalism for adolescents and young adults for the first time this year. Netzwerk Recherche is a project partner and contributes to the design of the program.
Research has shown that young people have recently lost confidence in the news media. At the same time, many young people find it increasingly difficult to distinguish facts from opinion, to evaluate news and to classify sources. How can media professionals get young target groups excited about news? Which formats and channels are required for this? This is what the new scoopcamp symposium is all about. It is aimed at young journalists, young multipliers or influencers and educational specialists.
The scoopcamp will take place over two days on September 15 and 16, 2021. Former Guardian boss and Pulitzer Prize winner Alan Rusbridger will hold a keynote at the conference on September 16.
The conference takes place hybrid: on site at designxport in Hamburg and digitally as a live stream. Digital passes (online tickets) for both days are already open scoopcamp.de available. Participation in the livestream is free - a separate fee is charged for in-depth masterclasses.
To the press release with detailed information (pdf, 500 KB).
Newsletter Netzwerk Recherche, No. 194 from February 23, 2021
Author: Albrecht Ude / Date: 02/23/2021 / Comment
Dear colleagues,
Last week we talked about local research in a relaxed atmosphere. In our new "nr-insights" series, four local journalists provided information on how they make extensive research possible for the Heidenheimer Zeitung, the Aachener Zeitung and the Sächsische Zeitung.
In an interview, the four reported on entrepreneurs and heads of authorities who complained to the editor-in-chief and the publishing house; of threats; of legal letters. And of the ordeal for personal friendships. Because if you run over your protagonist's feet again and again in everyday life, know them from school or the football club, it is much more difficult than those who report on distant DAX companies or federal politicians.
All four agreed that local research takes two things above all: time. And a publishing management with a backbone. If you don't have time to read files and, if necessary, meet protagonists five, six or seven times, you cannot uncover any abuse of power. And if you have no managers and lawyers behind you who are aware of how central good research is for a local medium, you will quickly find yourself alone at the first headwind.
The "nr-insights" are my new favorite format when it comes to network research. In order to counteract the isolation during the pandemic, my colleagues have been organizing a monthly meeting since January, for which they let smart reporters talk about their work. The late start (always 8:15 p.m.) creates a living room atmosphere. A small substitute drug for everyone who misses our annual conference (the last one was 20 months ago!) As much as I do. Continue reading
nr21 in June and October
Author: Netzwerk Recherche / Date: 02/16/2021 / Comment
Please note: As we do not expect the nr annual conference to take place in the summer as a face-to-face event due to the pandemic, it will be on June 26th another webinar day give.
We very much hope that more things will be possible offline again in autumn. So we're planning one Face-to-face meeting on 1st / 2nd October in Hamburg (alternatively also online again).
Alliance calls for transparency law for Baden-Württemberg
Author: Netzwerk Recherche / Date: 02/10/2021 / Comment
Netzwerk Recherche supports the call of Mehr Demokratie e.V. and Transparency Germany for a transparency law in Baden-Württemberg:
The organizations presented a draft transparency law for Baden-Württemberg on February 10, 2021. The Transparency Act obliges the administration to actively publish official information of public interest on an online transparency portal. This includes, for example, internal reports and studies as well as real estate plans and environmental measurements for the preparation of state parliament or municipal council decisions. Contracts with third parties for the performance of public tasks such as waste disposal also fall under this, as well as previously secret contracts from companies with public participation, such as municipal housing associations or EnBW.
Continue reading